TALENT, MEET OPPORTUNITY.
The 2022 AUCC Career Fair
Friday, September 16, 2022
Registration will open July 11, 2022, 9a.m. via Handshake
Employer Registration And Information
Student Registration And Information
Alumni Registration And Information
Thousands of the most talented students and alumni from the nation's most highly ranked historically black colleges and universities.
Hundreds of the world's most trailblazing Fortune 500 corporations, enterprising companies, non-profits, and government agencies.
Dozens of majors in the innovative fields the world needs now.
Three of the most respected institutions of higher learning around the globe.
Virtual Interaction. Real Talent.
For decades, Atlanta University Center institutions — Clark Atlanta University, Morehouse College, Morehouse School of Medicine and Spelman College — have prepared  the world's most talented emerging professionals and connected them with the companies and organizations who need their innovation, imagination, and expertise. As a safety precaution due to the COVID-19 pandemic, the 2021 Career Fair will be held virtually on September 16 and September 17, ensuring that talent meets opportunity at a time when an ingenius workforce is needed more than ever.
Find the talent that meets the moment.
Now more than ever, it is critical to find the right workforce to power your organization, equipped with both the skills and knowledge needed to lead and also the cultural sensitivity to make connections with customers, clients, and constituencies all over the globe. Your optimal talent pool are in one place on two days.
Launch your career.
Whether you are looking for an internship or a full-time career, your future is right now. Take advantage of a wide range of employers who are working hard to connect you with opportunities within their organizations. It is a one of a kind opportunity to share your talent with hundreds of employers.
Navigate a complex job market.
Finding your footing as you begin your career journey can be a challenge, but employers are looking to make a connection with AUCC alumni. Attend the AUCC Hybrid Career Fair from wherever you are in the world, and ensure that you are on a career path that fufills you.
Clark Atlanta University students engage in ground-breaking research, academic competitions and high impact practices, which challenge, inspire and prepare them for a lifetime of leadership and service. The provide  a transformative learning environment for  students to equip them with the tools they need to become actively engaged in their career and community upon graduation. CAU offers a college experience with the personal attention of small class sizes; the legacy, warmth, and energy of the historically black college experience; and the resources of a research university with access to the largest prostate and ovarian cancer research centers in the southeast, one of the longest running jazz stations in the world, and combined degree programs.

Morehouse College is the world's only HBCU for men. It has produced four Rhodes Scholars, several college presidents, and leaders in many other fields. It is the nation's top producer of black males who receive doctorates in education, life and physical sciences, math and computer sciences, psychology and social sciences, as well as humanities and the arts. Although times change, Morehouse's mission remains steadfast: to produce academically superior, morally conscious leaders for the conditions and issues of today. Nearly three-fourths of our students volunteer within the community. Many Morehouse students also travel or study abroad, awakening them to the complexities of a global community. Morehouse is committed to training the leaders who will change their communities, the nation and the world.

Spelman College has been recognized among the top 100 national liberal arts colleges, and has been the No. 1 historically Black college and university in the country for more than a decade, according to U.S. News & World Report. Spelman's  graduation rate is the highest among all HBCUs. The college is among the most selective women's college in the nation,  educates a higher number of Gates Millennium Scholars than any other college or university in the country, and  is annually recognized as one of the leading producers of Fulbright Fellowship winners. Spelman is among the most selective women's college in the nation and is one of the nation's leading producers of black female medical students and doctoral candidates in science, technology, engineering and mathematics and has been recognized by the National Science Foundation as the leading producer of black women who go on to earn doctorates in the sciences.
To guard against the spread of COVID-19, the 2021 AUCC Career Fair is virtual. The format allows for companies to make matches between open positions and talented candidates in person, or interacting with candidates virtually through streaming technology using a secure, robust online platform. In-person interaction is great, but so is being able to make connections from anywhere in the world.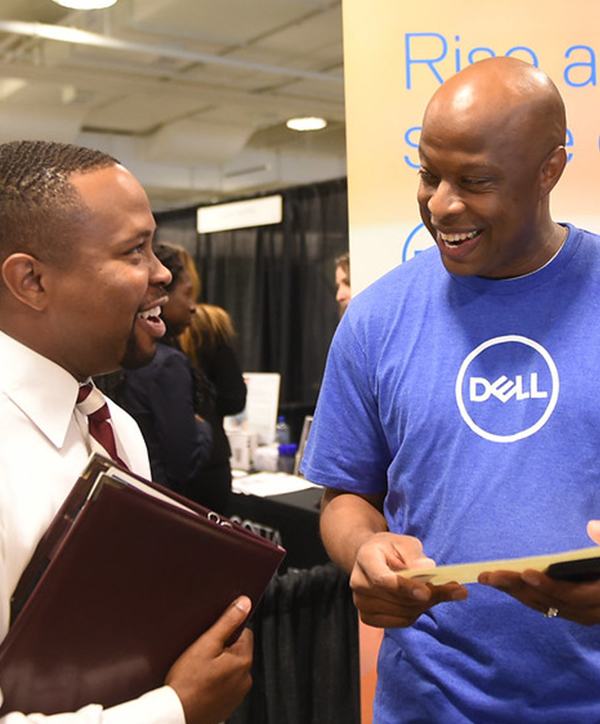 There is no question about it. Every organization wants to recruit the top talent and every worker wants to work for the best organizations. Thankfully, they all come together annually at the AUCC Career Fair. The earlier you register and become familiar with the virtual platform, the more prepared you will be to make the right connection. Get started today!
"The world has no time to waste in putting innovators, leaders, and creative professionals to work in solving the toughest challenges, disrupting the status quo and changing paradigms."
– Michael Hodge, Executive Director, Atlanta University Center Consortium, Inc.
Employer, Student and Alumni Registration Now Open
Officially reserve your spot and access the talent your company needs.
Virtual Career Fair
September 16-17, 2021
Make the connections which launch great careers with great organizations.