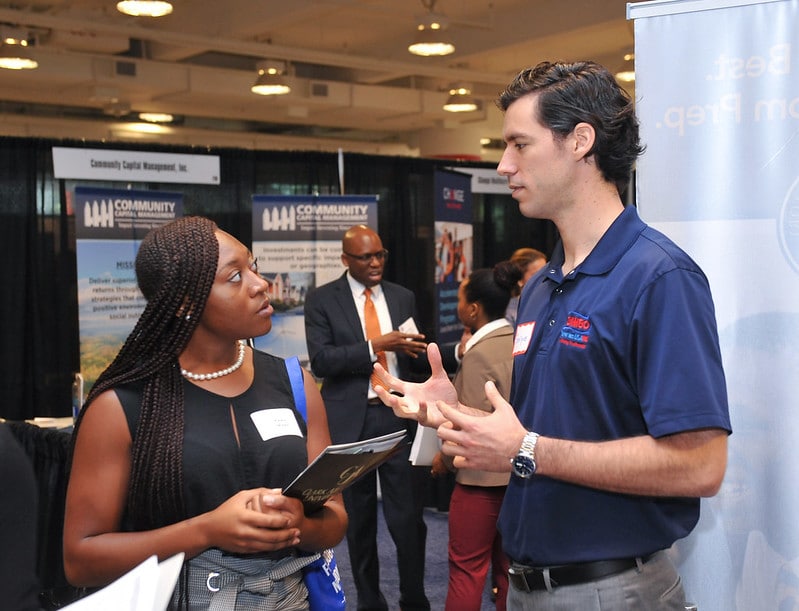 Global companies are reaching out to the Atlanta University Center Consortium, Inc., and its member institutions in a race to create a pipeline of skilled African Americans for positions within their companies.
The companies have strategically targeted the AUCC Dual Degree Engineering Program (DDEP), which allows students at three AUCC member institutions—Clark Atlanta University, Morehouse College and Spelman College—to study for three years at their home schools, then finish their education at one of 11 partner universities.
"It's heartening to see so many companies have come to realize that the only way forward is to improve diversity and inclusion among their ranks," said Said Sewell, director of academics, research and student success at the AUCC. "In the past, we have heard that recruiters couldn't find qualified candidates of color, or that they didn't know where to look. That has changed, as executives understand that they can actually work with historically black colleges and universities to create pipelines of qualified candidates who are groomed to not only work for these companies, but also take on leadership positions as they grow in knowledge and experience."
The Wood Group, PLC, was the first to approach the AUCC DDEP to pitch a partnership, Sewell said. One of the world's leading engineering and consulting firms, The Wood Group executives offered three scholarships of $5,000 each for students in the Dual Degree Engineering Program.
Next was Carrier. The leading global provider of healthy, safe and sustainable building and cold chain solutions has created the AUCC/Carrier Scholars Program, which provides four $25,000 scholarships to DDEP students as part of a multi-year gift.
Another company, Southwire, which is a leading global supplier of wire and cable used to transmit and distribute electricity, has created a program that includes scholarships, internships and mentoring opportunities.
Microsoft has recently expanded its ongoing partnership with the AUCC to create a pipeline of African American students to support, mentor and train as the company seeks to increase diversity and inclusion. "As we continue to expand our footprint in the Greater Atlanta area, the AUCC's intensive engineering workshop was the perfect opportunity for Microsoft to contribute financially and give students access to Microsoft engineers to learn about career options post-graduation," said Kory Hawkins, Microsoft University Relations lead.
While the gifts are welcome, Sewell, AUCC Executive Director Michael Hodge and company executives recognized an opportunity to do more than give money. Consequently, the group came up with a plan to include internships, networking opportunities and training that may lead to future employment with the Fortune 500 companies.
"Our strategic collaboration with AUCC demonstrates Carrier's commitment to making measurable progress towards its diversity and inclusion goals including recruiting a more diverse workforce and developing and sponsoring talent," said Chris Nelson, president, HVAC, Carrier. "This partnership is more than financial support. At Carrier, we're building the best teams and recruiting the workforce of the future."
AUCC administrators carefully vet future partners.
"We get about 10 emails a week from companies seeking to create partnerships with us," Sewell said. "We are partnering with these companies at a more rapid pace now because China and India are outpacing the United States in producing STEM (science, technology, engineering, math) graduates. "So, America has made STEM a high priority, because we realize if we don't close this gap, we will lose our standing as a super power."
According to Sewell, the up swell in activism and protests after the killing of George Floyd by Minnesota police last summer is another reason for the sudden focus on partnerships with HBCUs.
"Many companies have begun to rethink their hiring practices. They are re-examining their hiring and promotion of people of color within industry," Sewell said. "So, we now see a new awareness of the importance of diversity and inclusion in the workforce and how that can be a benefit to a company."
The new partnerships not only benefit student, but also helps companies become better, said Fernando Esquivel, Southwire's executive vice president of human resources.
"At Southwire, it is our commitment to foster an environment that recognizes the value and talent of diverse perspectives and backgrounds, regardless of gender and ethnicity. But it goes beyond that," Esquivel said. "By diversifying our organization through its people and the companies we partner with, Southwire is enabling talent and diverse thought to flourish, which encourages all our employees to reach their highest potential and makes Southwire a better place for all its stakeholders."
The collaborations also help meet the country's engineering needs.
"These new partnerships between some of the world's most innovative companies and the oldest dual-degree engineering program at a historically Black college or university bespeaks the firms' commitment to social justice and to diversifying their workforces by employing AUCC DDEP graduates," added Sewell. "But these transformational moments are also a positive step toward meeting America's engineering demands."