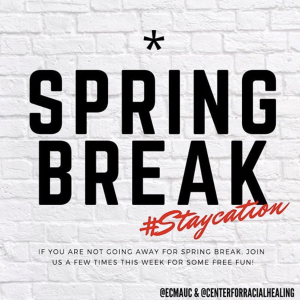 Hey AUC! Are you not getting "flewed out" for Spring Break? That's okay, we are here to ensure you enjoy your STAYCATION!
Join us here @
Absalom Jones Center for Racial Healing
Monday, March 11 @ 6 p.m. We are taking students on an expense paid trip to Main Event Entertainment. The options are endless—bowling, laser tag, arcade games etc! Meet in the Center's parking lot.
Tuesday, March 12 through Friday, March 15 between 1 p.m. and 6 p.m. come get a good, free meal and snacks (we hear the cafe isn't functioning at its best during breaks). We gotcha!
Sign-up on IG @ ECMAUC