March 20, 2023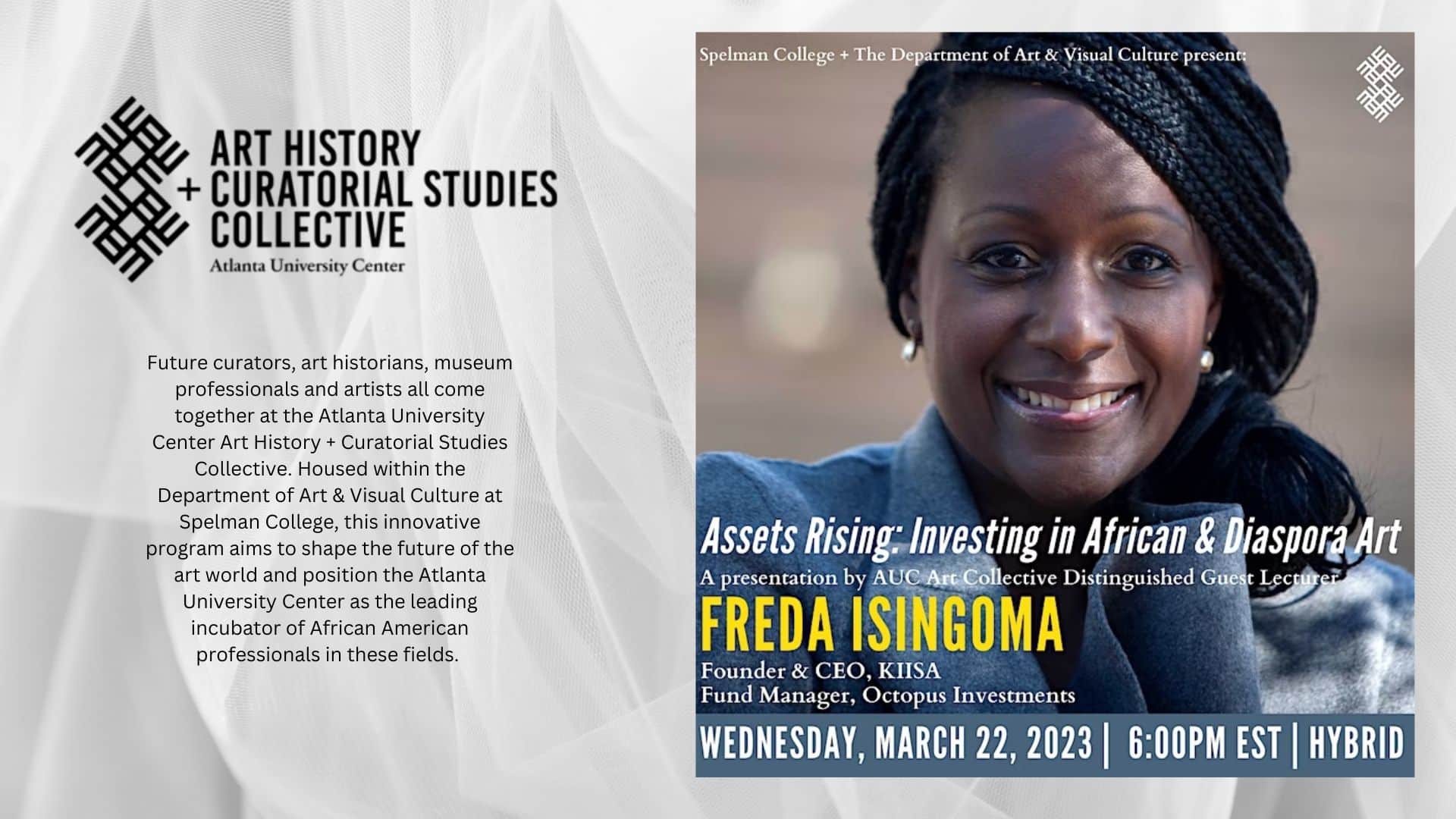 From the AUC Art Collective:
The second Atlanta University Center Art History + Curatorial Studies Distinguished Lecture of the academic year, Freda Isingoma will consider the questions and topical issues relating to investing in African Art, Wednesday March 22, at the Morehouse College – Massey Leadership Center
Isingoma is an entrepreneur and investment banking professional who has worked in multinational and leading investment institutions in the UK, US and South Africa. Isingoma has been collecting art from Africa and the Diaspora for over 20 years. In 2018, she founded KIISA to provide innovative investment and impact solutions that drive the growth, visibility, knowledge, and sustainability of the African and Diaspora art ecosystem.
More recently, she joined an award-winning team at Octopus Investments as a Fund Manager specializing in investment in UK listed small companies, primarily managing the Octopus AIM Venture Capital Trusts. Octopus Investments is the UK's largest Venture Capital firm.
In Assets Rising: Investing in African & Diaspora Art, she will consider why art is increasingly considered an asset class, the different models of art investing and why the time to invest in African & Diaspora art is now!
This lecture is open to the public and will also be live-streamed. RSVP for information to access the live stream. A reception will follow the lecture.
Register here: https://www.eventbrite.com/e/assets-rising-investing-in-african-diaspora-art-tickets-572017538857
ABOUT KIISA
KIISA is an Art Investment and Advisory company focused on developing transformative solutions for the Modern and Contemporary African & Diaspora art market. KIISA develops, curates and supports the Contemporary and African & Diaspora art market and ecosystem through investment products, and strategic/innovative platforms, that fosters engagement with investors, collectors, patrons, art professionals, arts organizations, and the wider public. At KIISA, we believe that visual art will play a vital role in generating a positive narrative and global impact as it is a powerful expression of both African and diaspora creativity and identity.
__________________________________________________________
About the AUCC 
The Atlanta University Center Consortium, a 501 (c)(3) non-profit corporation under the laws of the State of Georgia, formed in 1929 to operate on behalf of its member institutions–Clark Atlanta University, Morehouse College, Morehouse School of Medicine, and Spelman College—is the world's oldest and largest association of historically Black colleges and universities. The Consortium is a vibrant intellectual community with a long tradition of scholarship, service, and community engagement.