April 3, 2023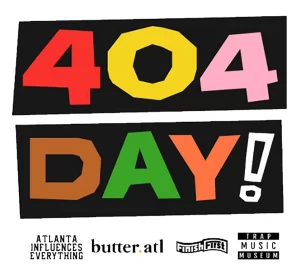 ATLANTA – April 4th, Butter.ATL, Atlanta Influences Everything, Trap Music Museum, and Finish First are excited to announce the continuation of the 404 Day Scholarship in partnership with the Atlanta University Center Consortium (AUCC). In its inaugural year, the 404 Day Scholarship contributed over $20,000 to the AUCC, assisting seniors in overcoming financial barriers to graduation and improving their competitiveness in metro Atlanta's job market.
The scholarship has received support from partners such as the Atlanta Hawks, Discover Atlanta, and The Athlete's Foot. The COVID-19 pandemic disproportionately affected students of color, with 56% of Black and Latinx students reporting that it negatively impacted their ability to remain in college, compared to 44% of white students.
The 404 Day Scholarship aims to alleviate financial stress, enabling students to achieve their academic and career aspirations while also increasing the availability of diverse candidates within metro Atlanta. The AUCC, with over 9,000 students, is the oldest and largest consortium of private African American institutions of higher education and a top producer of diverse talent in the country.
404 Day, officially proclaimed by the City of Atlanta, takes place annually on April 4 to celebrate metro Atlanta's influence across music, art, sports, local culture, and the region's iconic area code. Atlanta culture brands ChooseATL, Butter.ATL, and Atlanta Influences Everything collaborate each year to create a vibrant and meaningful celebration. This year, Atlanta Mayor Andre Dickens will toast the city and present the 404 Day Scholarship check to the AUCC executive director and member-school presidents. The ATL-inspired "party with a purpose" will also feature live DJ sets and curated activations from Nike and others. Guests can look forward to a warm welcome from Harry the Hawk and the ATL Hawks Dancers. Additionally, Hot 107.9 (WHTA) will broadcast live from the event, bringing the experience to the region.
The event will begin at Underground Atlanta with a 404 Day Block Party from 3-6p.m. on April 4th.
__________________________________
About the AUCC 
The Atlanta University Center Consortium, a 501 (c)(3) non-profit corporation under the laws of the State of Georgia, formed in 1929 to operate on behalf of its member institutions–Clark Atlanta University, Morehouse College, Morehouse School of Medicine, and Spelman College—is the world's oldest and largest association of historically Black colleges and universities. The Consortium is a vibrant intellectual community with a long tradition of scholarship, service, and community engagement.