It was 1931 when Hale Woodruff, an abstract painter, and Nancy Prophet, a painter and sculptor, established the art departments for the Atlanta University Center institutions. Through the visionary genius of Woodruff, AUC's cultural heart and soul emerged as the staging ground for some of the world's most talented Black artists.
For nearly 20 years, Woodruff would not only develop art instruction for AUC students but also would create a platform for the Atlanta University Art Annuals and catapult AUC as an art haven.
Whether ingesting the murals of Woodruff, being inspired by the wordsmith Martin Luther King Jr., experiencing a vibrant art collection in a library setting, or bearing witness to art by and about women of the African Diaspora, the AUC is a canopy of artistic treasures that rival any museum.
Clark Atlanta University, the Atlanta University Center Robert W. Woodruff Library and Spelman College serve as purveyors of beauty, knowledge, history and social justice. Unmistakably individual, yet linked by common treads of talent, culture, experiences, civic engagement and righteous indignation.
The must-see works in the Clark Atlanta University Art Museum, unique and rare collections at the Woodruff Library, and femininity and originality at the Spelman College Museum of Fine Art are a treasure trove of beauty, art and history in the AUC.
Clark Atlanta University Art Museum
With a permanent collection of 1,215 works, the CAU Art Museum features bodies of work that include the likes of Henry Ossawa Tanner's "Disciples Healing the Sick," Romare Bearden's "Snow Morning," Jacob Lawrence's "Brownstones," Elizabeth Catlett's "Negro Women," and Woodruff's "Art of the Negro" mural series.
Through Woodruff's efforts with juried exhibitions from 1942 to 1970, CAU, formerly Atlanta University, served as a conduit from which to build the University's collection. According to Brenda Thompson in the book "In the Eye of the Muses: Selections From the Clark Atlanta University Art Collection," it was 1988 during the consolidation of Clark College and Atlanta University when then-President Thomas W. Cole Jr., Ph.D., asked Tina Dunkley to oversee CAU's Trevor Arnett Hall renovation.
From this renovation, the CAU Art Museum moved from the basement to the second floor of Trevor Arnett. "When the new galleries opened, many of us were startled, feeling both proud and amazed that these quality works were a part of Clark Atlanta University's permanent collection," Thompson, an avid Black art collector and philanthropist, wrote.
Through the national juried competitions, Woodruff began the core foundation for what is now the permanent collection of the CAU Art Museum.
"If you're really trying to understand African-American art, you would really want to come here," said Maurita Poole, Ph.D., director of the CAU Art Museum. "People do not know about our collection of art and how it is a resource for them and how there is so much history about Atlanta University's history and the art as well."
Currently, the museum features two exhibitions, "Bitter/Sweet," and "Fathi Hassan: Edge of Memory." Running from Oct. 9-Dec. 9, 2016, "Bitter/Sweet" highlights works from the 1940s to the present featuring all nuances of the African-American experience. "Fathi Hassan: Edge of Memory," which runs from Oct. 9-May 26, 2017, showcases the works of contemporary artist Fathi Hassan's mixed-media works that explore the plight of Nubians, an ethnic group from southern Egypt and northern Sudan.
Atlanta University Center Robert W. Woodruff Library
Just like many other libraries, there are books and periodicals, electronic resources, a learning commons, smart classrooms, study rooms, a print shop, free Wi-Fi, and a coffee shop in the Robert W. Woodruff Library; however, take another look, and one might think this is an art museum. With approximately 200 pieces of artwork on exhibit at a time, the art crux of the Woodruff Library is to have art that inspires the learning space.
"A modern academic library should not just be considered as a place of information resources, but also as a place to motivate learning and thinking," said Loretta Parham, CEO and director of the Woodruff Library. "When AUC faculty and students are studying or conducting research in an academic setting that is warm, inviting, and reflects beauty and creativity, we feel it serves to inspire them."
It began where any education institution might begin – with students. In the mid-2000s, students would showcase their capstone art projects in what is now called the Woodi Gallery. From that, Mrs. Parham wanted to take it a step farther. With funding in 2010 for a renovation, the Knowledge and Arts Initiative was born.
The effort of the initiative is to promote student pride and ownership of the library, as well as inspire student thought and conversations through the visual arts. A range of works that includes sculpture, photography, loaned and owned art, including a signature piece titled "People of Color," by Jonathan Romain, who has created work for President Barack Obama.
Four colorful student portraits representing CAU, the Interdenominational Theological Center, Morehouse and Spelman, "People of Color" demands notice. Romain was allowed to visit each campus to take photos. From those photos, he chose one that best captured that campus and that is the student he painted.
"I call it the centerpiece of the library, and it is captivating and is the staple of our Arts Initiative," said Carolyn Hart, assistant director, Planning, Assessment & Communications for the Woodruff Library. "From the Carolinas to California, we have visited libraries and I have to say I've seen absolute gorgeous buildings. I've admired architecture, but as far as the art I really think we hands down are in a league of our own."
Also, the library features AUC artists who include: Dr. William Anderson, Dr. Louis Delsarte, Derek Fordjour and Ross Oscar Knight (Morehouse College); Dr. Frank Toby Martin, Dr. Althea Murphy-Price, and Dr. Duhirwe Rushemeza (Spelman College); Tina Dunkley (Atlanta University); Ron Young (Clark College); Dante Yarbrough (Clark Atlanta University); and Freddie Styles (Morris Brown College).
In addition to the art, the AUC Woodruff Library Archives Research Center is home to several unique manuscripts, archival, photographic, art and media collections, including original pin and ink drawings by Hale Woodruff, photographic collections documenting the historical Atlanta University Center institutions, as well as the Countee Cullen-Harold Jackman Memorial Collection, Hoyt Fuller Collection, and Lemoine DeLeaver Pierce Papers containing prints and photographs from the Harlem Renaissance and Black Arts Movements.
Adding to the more than 100 collections in the Archives Research Center are the Morehouse College Martin Luther King Jr. Collection. It was 2006 when a coalition of Atlanta movers and shakers led by former Atlanta Mayor Shirley Franklin brokered a $32 million deal to land the papers in the AUC.
Owned by Morehouse but housed at the Woodruff, the collection is made up of some 13,000 items, including some 1,100 books owned by the Nobel Peace Prize native son.
Spelman College Museum of Fine Art
CNN coins it as one of the six reasons to love Atlanta, and the Spelman College Museum of Fine Art's mission to inspire and enrich the lives of all through art by women of the African Diaspora is the reason for such a designation.
"When Dr. Donald Stewart was president, he said, 'You know we need to make sure we begin to collect art by Black women artist,'" said Andrea Barnwell Brownlee, Ph.D., director of the Museum of Fine Art and a 1993 Spelman graduate. "When the college's collection began, we certainly didn't have this precise mission."
Located on the first floor of the Camille Olivia Hanks Cosby, Ed.D., Academic Center at Spelman, the Museum of Fine Art was established in 1996 from part of a $20 million gift to the college from the Cosby family. The 4,500-square-foot exhibition features a climate-controlled vault for the permanent collection, a lab for routine art preparation, and a museum store.
"Most of what you get from the Museum of Art is the crème de la crème of contemporary art," said Dr. Poole, who spent three years at the museum training as the graduate assistant before serving as the Andrew Mellon Curatorial Fellow for Diversity in the Arts at Williams College Museum of Art, followed by her current position at CAU Art Museum
Some of its more than 350 permanent holdings include the works of Kofi Bailey, Romare Bearden, Elizabeth Catlett, Jacob Lawrence Valerie Maynard, Faith Ringgold, Henry O. Tanner and Hale Woodruff. Also, the Museum of Fine Art was awarded a $250,000 grant by the Andrew W. Mellon Foundation to pilot a curatorial studies program. Designed for juniors and seniors in various academic majors, the two-year collaborative program seeks to prepare the next generation of students of African descent for curatorial professions and serve as a pipeline to diversify a field described as 80 percent White, according to the American Alliance of Museums.
"When you think of the fact that there are only five of us in the field at the director level now, there just had to be some kind of effort to help diversify the field. We can begin to address that through our curatorial program," said Dr. Brownlee, who is celebrating the museum's 20th anniversary.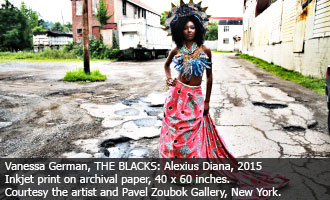 Currently on view until Dec. 3, 2016, at the Museum of Fine Art is "AFRICA FORECAST: Fashioning Contemporary Life," an original exhibition that looks at fashion through two overlapping perspectives – an ever-changing global marketplace and the unique ways Black women construct their lives.