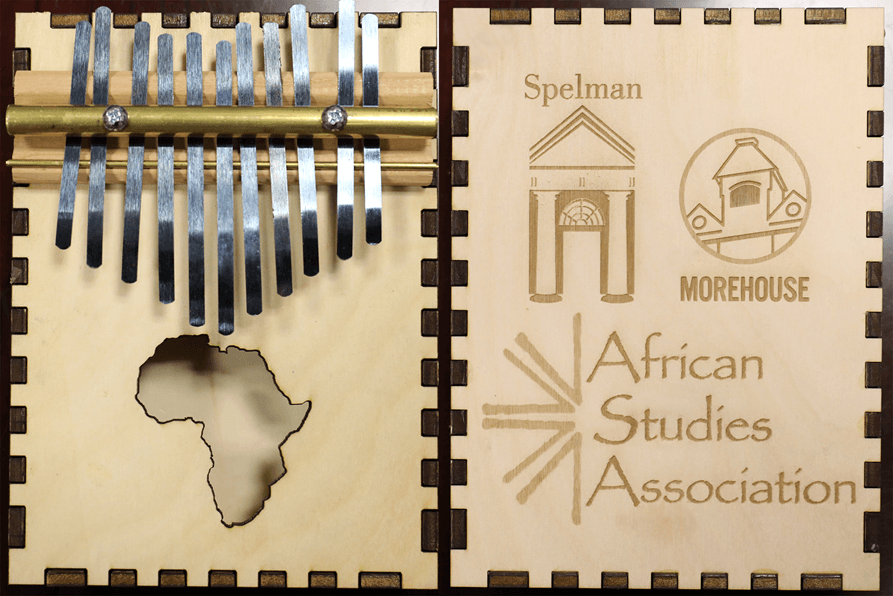 More than 30 Morehouse and Spelman students will present research, exhibit self-made instruments, offer musical performances, facilitate workshops, and provide photography and videography at the 61st annual meeting of the African Studies Association.
Taking place Nov. 29-Dec. 1 at the Atlanta Marriott Marquis, the ASA annual meeting is the largest gathering of Africanist scholars in the world. With an attendance of approximately 2,000 scholars and professionals, this year's theme focuses on Energies: Power, Creativity and Afro-Futures.
The conference features more than 300 panels and roundtables; plenary events with keynote speakers; an awards ceremony and dance party; institutional and organizational receptions and meetings; an international exhibit hall; and screenings of award-winning movies from Africa, and/or by African producers.
For more information, visit africanstudies.org/
---
AUC highlight events around the conference include:
Black Money Exhibit featuring Spelman students who made African instruments
Auburn Avenue Research Library
Wednesday, Nov. 28, 6:30 p.m.-9 p.m.
---
Welcome reception and film screening featuring Morehouse Jazz Combo and Glee Club
Massey Conference Center, Morehouse College
Thursday, Nov. 29, 7:30 p.m.-11 p.m.
---
I-V-4 Roundtable: African-Centered Making: The Case for Cultural Relevance in the Maker Movement (Local Arrangements Committee and Morehouse College)
Thursday, Nov. 29, 8:30 p.m.-10:15 p.m.
Chair: Lycurgus Muldrow, Morehouse College
VII-S-1 Creative Energies: Digital Approaches to Studying African Culture and Diasporic Retentions (Local Arrangements Committee and Morehouse College)
Friday, Nov. 30, 2 p.m.-3:45 p.m.
Chair: Aaron Carter-Enyi, Morehouse College
VIII-S-4 The Language Agenda in Post-Colonial African Music (Local Arrangements Committee and Morehouse College)
Friday, Nov. 30, 4 p.m.-5:45 p.m.
Chair: Quintina Carter-Enyi, University of Georgia
Closing reception and dance party featuring Morehouse Afro Pop Ensemble
Atlanta Marriott Marquis, Main Ballroom
Saturday, Dec. 1, 7:30 p.m. to midnight
Acknowledgments:
Morehouse College departments and programs: Africana Digital Ethnography Project (ADEPt); Entrepreneurship Center; Public Health Sciences Institute; Department of History; Department of Music; Glee Club; Jazz Orchestra; Makerspace; Event Support Services
Spelman College departments and programs: Bonner Office of Civic Engagement; Department of Art; Department of Music; Spelman Innovation Lab
If you would like more information, please contact Aaron Carter-Enyi, aaron.carterenyi@morehouse.edu
Aaron Carter-Enyi, Ph.D
Director, Africana Digital Ethnography Project (ADEPt) – www.adept.africa
Assistant Professor of Music, Morehouse College
Adjunct Faculty, Spelman College
ACLS Fellow '17, Fulbright Fellow '13
Coordinator, The Morehouse College Sub-Saharan Africa Commissioning Project
/var/folders/z0/1phm8bvd4ps_c6_vgjyb2x_r0000gn/T/com.microsoft.Outlook/WebArchiveCopyPasteTempFiles/cidimage001.png@01D34B67.D6E6F010