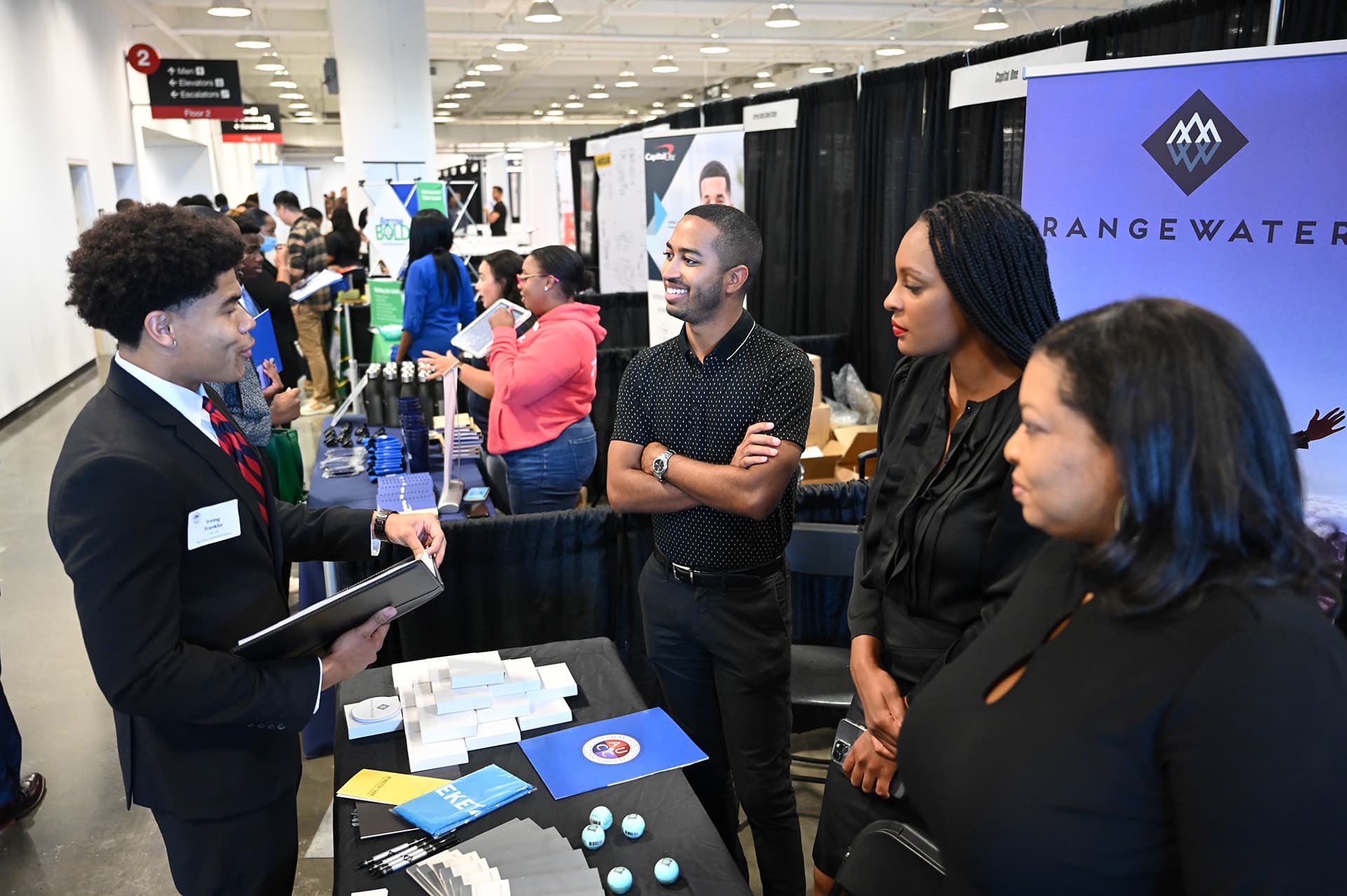 The Atlanta University Center Consortium welcomed nearly 2000 students to their annual Career Fair, held Friday, Sept 16. The organization held its first in-person event since 2019 with remarkable success, welcoming 300 employers to offer jobs, internships, and career opportunities to Clark Atlanta University, Morehouse College, and Spelman College.
AUC students shared their thoughts about the event, all of them eager to have had the opportunity to meet employers in person.
Prince Adefolayan, a junior at Clark Atlanta University, said this was his first time attending the event. "Walking into it, I was nervous, I didn't know what to expect or what to think but after talking to a few recruiters, it made me realize it was a fun experience and helps with networking. Everyone was helpful, they gave tips and helped find the closest fit for you."
Daimear Bryant, a junior at Morehouse College, said he feels good to be back in person at the annual career fair. "The online setting can be a tad bit different. You're not in front of the person to see how they interact with you. This event had a good variety & a lot of solid companies."
Parker Hall, a first-year student at Spelman said, "I've seen so many opportunities here, I'm a STEM major, with a huge interest in Acting and the liberal arts, I've seen something for almost every interest that I've had here. I talked to the National Zoo, which was something I really enjoyed. I also have a huge interest in heredity and genetics, I've been able to get insight on that. Even when internships or opportunities may not be for you, they still have an opportunity for you such as scholarships."
Words from some of our companies and organizations attending:
Tae Smith, a Kellogg Sales Manager, was looking for Business Management and Marketing majors, and shared he met lots of good candidates for their internship program. "We offer a 12-week internship program giving students experience six weeks in sales, learning the nuts and bolts of how the product goes to the marketplace and the remaining six weeks with the accounts/internal side of the business with a special project at the end with corporate leadership."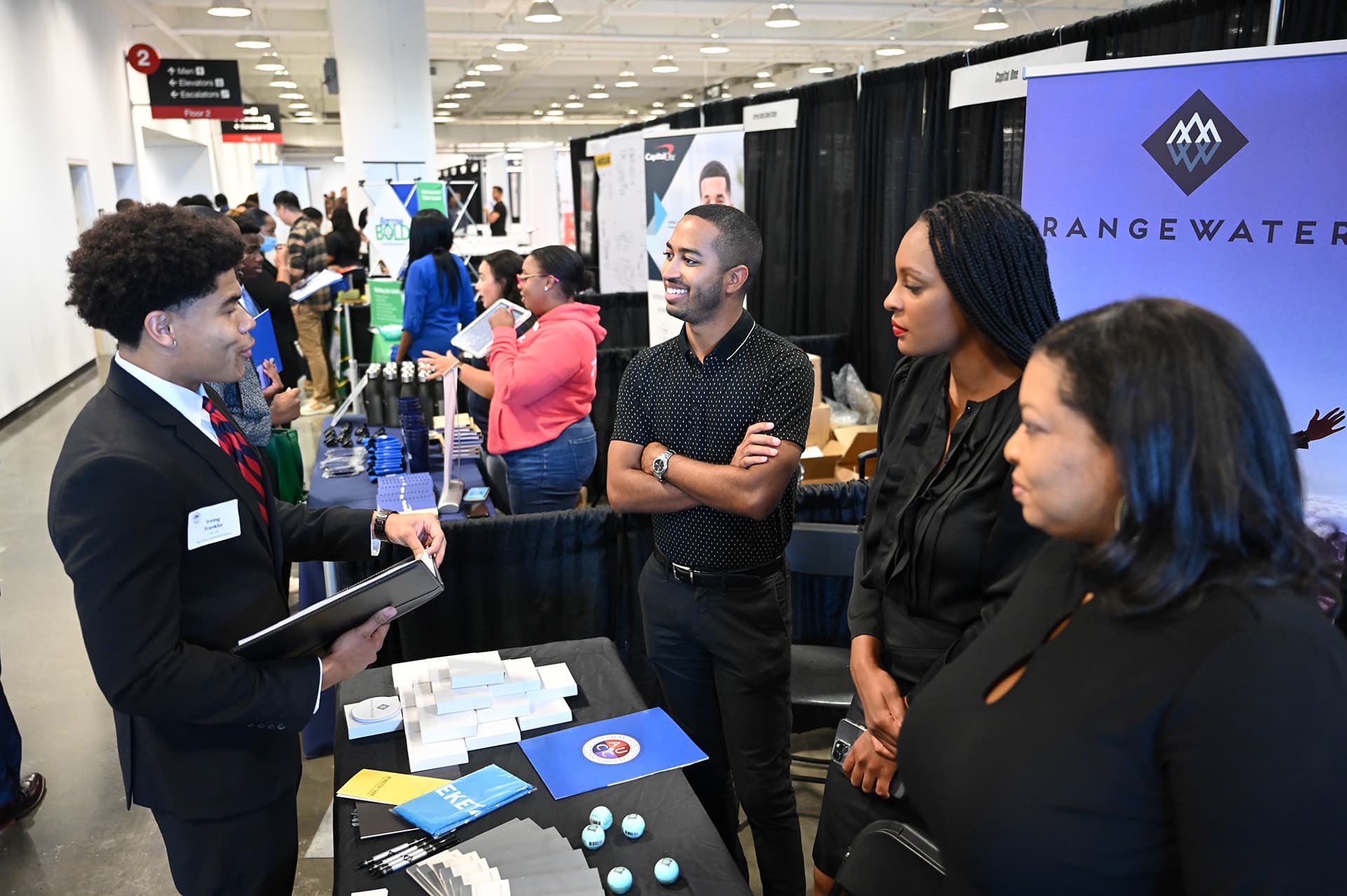 Shan Black with Takeda Pharmaceuticals, said her company was eager to meet students in person and share positions they had of lab technicians, engineers, manufacturing technicians. "Students were very prepared and they presented themselves well. I'm pleased with the turnout and will be reaching back out to many of the students I met. We're doing a traditional meet and greet and we've noticed a lot of students are learning how to engage and have lots of questions."
Karitza Hines said she was excited to meet freshmen looking so far in the future and excited about interning and hearing about opportunities.
Hines, Head of Human Resources-Americas with Euromonitor International, said, "We're hiring research consultants and sales consultants. We also have a marketing team so there's a lot of different opportunities available. We're looking for all majors. We are really just looking for smart energetic people that have a passion for marketing and the research side of things."
She continued, "There's just nothing like that face time that you get, connecting and seeing body language of job candidates. These things are very valuable in HR. Getting that vibe and energy from another person doesn't always translate virtually."
Al Keeler, Director of Real Estate with Aldi USA, was looking for District Managers and District Manager interns. "Great position, it's mid-level management and it's a great leadership role right out of college," Keeler explained they hone in on business majors, but are open to students of all backgrounds as they look for varying ideas and thought processes to lead and move forward as an organization.
Dr. Chris Ellis, AUCC's Manager of Career Services, has planned this annual endeavor for the past three years.
"The planning and efforts put into this Career Fair truly paid off for us. I was proud and excited to see the number of students in attendance and their interactions with employers. Returning the career fair back into an in-person event was welcomed by all involved. Knowing that our students were able to network with employers in efforts to pave pathways toward internships and/or employment, was well worth the time invested and energy given to this event," Ellis said.
Plans are underway for two other career fairs this Fall, a Graduate Career Fair, October 5th and a Federal Agency Career Fair October 27th. For more details contact, Dr. Chris Ellis at campusrecruiting@aucenter.edu.
Contact:
Teresa D Southern
Manager of Communications, Events & Marketing
Atlanta University Center Consortium
Tsouthern@aucenter.edu
478-320-7753