April 13, 2023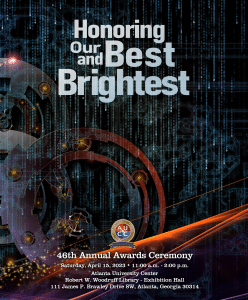 Corporate sponsors have made scholarships and internships possible for students to be awarded at the 46TH AUC Consortium Dual Degree Engineering Program April 15th. 
ATLANTA – The Atlanta University Center Consortium will honor students in its Dual Degree Engineering Program by disbursing more than $1,110,000 in scholarship awards from its corporate sponsors directly to students in the form of scholarships and internships. This year's award program will be, Saturday, April 15, 11 a.m. -2 p.m.  
"I am honored to have the opportunity to help prepare the mindset of future leaders in STEM, specifically, engineering. Our students are among the best and brightest, and it brings me joy to be able to share the academic accomplishments of our students with others," said Dr. Christopher G. Ellis, AUCC's Program Manager for the Dual Degree Program and Career Services. 
The Dual Degree Engineering Program was created to significantly build the number of minority engineers globally aware, socially engaged, and well equipped for scientific, technological, engineering, and mathematical careers. Since its conception, classes of innovators and disrupters have entered the job force forging a path to greatness. This year's honorees join the ranks of more than 3500 students who have matriculated through the program.  
This year's corporate sponsors include; Accenture, Adient, Boeing, Capitol One, Carrier, Cisco Systems Inc., CVS Health, ExxonMobil, Lockheed Martin, Manulife/John Hancock, Norfolk Southern Company, Qualcomm, Southwire, and Stanford Linear Accelerator Center, the Toro Company, and WSP. The support from these organizations shows their continued investment in the future of minorities in engineering.  
Event Details: 
AUC Consortium Dual Degree Engineering Program 
46TH Annual Awards Ceremony 
Saturday, April 15, 2022, 11:00 a.m. – 2p.m. 
Robert W. Woodruff Library, Exhibition Hall, 111 James P. Brawley Drive SW,  
Atlanta Georgia 30314 
About the AUCC 
The Atlanta University Center Consortium, a 501 (c)(3) non-profit corporation under the laws of the State of Georgia, formed in 1929 to operate on behalf of its member institutions–Clark Atlanta University, Morehouse College, Morehouse School of Medicine, and Spelman College—is the world's oldest and largest association of historically Black colleges and universities. The Consortium is a vibrant intellectual community with a long tradition of scholarship, service, and community engagement.