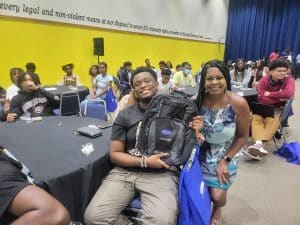 9/13/23
Atlanta – The AUCC Dual Degree Engineering Program held its annual New Student Orientation to welcome new students into the Consortium's engineering partnership.  
The Atlanta University Center Consortium Dual Degree Engineering Program was created to significantly build the number of minority engineers globally aware, socially engaged, and well-equipped for scientific, technological, engineering, and mathematical careers.  
According to Program Manager Dr. Christopher Ellis, the program is continuing the legacy of promoting and celebrating diversity, innovation, and excellence in the field of engineering. The program welcomed the newest members into the program and allowed students to hear from current program participants.  
In collaboration with corporations, engineering schools, and other partners who meet the need & interests of our students, the Consortium-wide program work, complements those at its member institutions: Clark Atlanta University, Morehouse College and Spelman College increasing student success and engagement in their chosen fields. 
At the event, students learned not only about the program's rich history, but the program's engineering partnerships; transfer process to partnering institutions, scholarships and internships and about the National Society of Black Engineers national and local chapters.  
The program culminated with a Corporate Sponsor presentation from the Carrier Corporation. Special thanks to Tonyia Purdy, PHR, SHRM-CP, Jerry Massey and Carrier Corporation for their continued support of the AUCC Dual Engineering program.  Since joining in partnership with the DDEP in 2021, Carrier has provided 11 students with scholarships and internships valued over $250,000.  
For information about the Consortium's Dual Degree Engineering Program, contact Program Manager, Dr. Christopher Ellis at cellis@aucenter.edu or visit https://aucenter.edu/ddep-history