9/15/23
The Atlanta University Center campuses experienced significant flooding on on Thursday, which raised concerns about the feasibility of the AUC Consortium Career Fair '23. The AUCC has decided to proceed with the event today as originally planned.  Our offices at 660 Atlanta Student Movement Blvd are closed and staff will work remotely due to storm damage and our attendance at the career fair.  We are pleased to report students are safe, and campuses are in the process of restoration.  Thank you to our over 300 corporate sponsors who are eager to meet our students who choose to attend the event.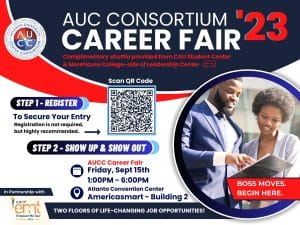 The safety and well-being of our students, staff, and attendees remains our top priority. We have taken necessary precautions to ensure a smooth and enjoyable event for all participants.
We understand that the recent weather conditions may have caused some uncertainty, but we are committed to providing an excellent experience for both employers and students. We are looking forward to a productive and engaging Career Fair, and we can't wait to see our AUC Community.
AUCC Communications can be reached at 478-320-7753 for updates.