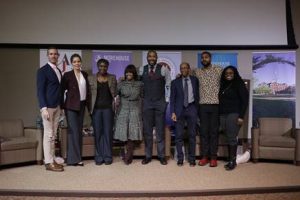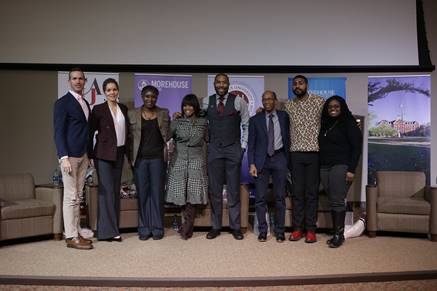 The panel's moderator and five members were themselves a highly diverse and accomplished group ― men, women, gay, straight, black, white and Latino ― with noteworthy careers primarily in the field of sports communications. Moderator Tareia Williams is the Turner Sports director of Communications, and the five panelists were: Rana Cash, sports director of the Louisville Courier-Journal; Mark Anthony Green, GQ's widely read "Style Guy" columnist; Carron Phillips, columnist for the New York Daily News; Renée Tirado, vice president of talent acquisition for Major League Baseball; and Cyd Zeigler, co-founder ofOutsports online magazine.
Williams posed a number of questions to which the panelists offered responses. This one-hour portion was followed by a Q&A with audience members who mostly were Morehouse students or graduates.
Williams stated that in the '70s, social justice in sports revolved solely around race, while gender and sexuality as related to sports very seldom were discussed. But times have changed, of course, and this panel addressed the broader concerns head-on. Title IX opened sports up to girls and women, and much more recently, gay athletes have come out and are more readily accepted by their teammates and others.
The group tackled how well sports media bring these important issues to the fore, as well as how well members of the sports media reflect these issues. The following summarizes many of the comments and general consensus of the panel members.
Martin Luther King likely would say that despite many strides, especially in diversity among players, a lot of work remains regarding both real equity in team ownership, management and leadership, and diversity in sports journalism. Pay equity and presence "in the room" are still significant issues for all minority groups, perhaps especially for women, despite big advances that have been made. Genuine diversity on the front lines brings more voices to any conversation, but the culture must change so that folks are accepted as they are.
Sports journalists can help promote inclusion by using their influence through articles and broadcasts celebrating diversity, for example, about the Rams' male cheerleaders or players who may be in the trans community. But these columnists must be prepared for push-back from readers and others. While some in the public may react adversely to what they may view as "advocacy journalism," it's important that journalists call out inequities, and use their powers of persuasion to be advocates for the truth.
Getting leaders and management of sports organizations to "walk the walk" regarding inclusivity is difficult, but necessary. Inclusion refers not just to blacks, women and LGBTQ and trans groups, but also to Latinos, Asians and Middle Easterners who are woefully underrepresented in both sports activities as well as in sports media.
Looking to the future, the panel members anticipated seeing how the student audience members, once they graduate and enter the sports media job market, will use social media, and hopefully take on nontraditional roles. They advised the students to avoid getting pigeon-holed and boxed into conventional spaces, such as covering the NFL or NBA. Instead, students were encouraged to pursue covering sports where minorities seldom are seen in a press box, like baseball, hockey, lacrosse and e-sports (competition using video games). Whatever they cover, the panel reminded students to be true to their personal ideals without expectations of high compensation early in their careers.
Being the very best at what they do, putting themselves "out there" to take on what may at first seem like less desirable challenges, ignoring negative energy, being memorable, recognizing that tweeting is NOT writing, trusting people, asking tough questions, listening to and understanding criticism, and maintaining their integrity and being authentic were among the other valuable tips the panelists offered their listeners.