April 3, 2023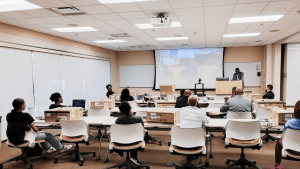 ATLANTA –The inaugural Atlanta University Center Consortium Institute for Dual Degree Engineering Advancement (IDEA) workshop series began offering the chance to win a 3D printer with registration and hear from experts in STEM. The next workshop in the remaining series is offered Thursday, April 6th, 2023 and promises more exciting information.  
"The STEM Education Workshop Series is about using engineering to build community with the Atlanta University Center. Each workshop is tailored to one of the IDEA programs outcomes of increased innovation, diversity, engagement and achievement," Dr. Jonathan Gaines, Assistant Director of Engineering Innovation at the Atlanta University Center Consortium. Gaines designed the series to engage all members of the AUC including students, faculty and staff.  
IDEA aims to build the number of Black engineers by creating an institute focused on dual-degree engineering. IDEA will create the first institute in the nation at a consortium of historically black, private, liberal arts higher education institutions focused on dual-degree engineering. Graduates of dual-degree engineering earn a liberal arts degree at an AUC institution and an engineering degree at one of nine engineering partner schools. 
Check out the workshops below and sign up today! 
April 6: STEM Education + Certification. This workshop will explore using electronic badges toward career readiness and helping our students make themselves marketable in the workplace. Dinner is provided.  
April 13: STEM Education + Connection This workshop will explore how to build a strong relationship among our AUC institutions to gather and share STEM best practices. Dinner is provided.  
April 20: STEM Teaching + Pro Blackness facilitated by Dr. James Holly Jr. of the University of Michigan. Dr. Holley's insight to help all people develop an understanding of how anti-Black racism is a significant barrier for Black students learning STEM is aligned with the goals of the IDEA program. Dinner is provided. 
__________________________________
About the AUCC 
The Atlanta University Center Consortium, a 501 (c)(3) non-profit corporation under the laws of the State of Georgia, formed in 1929 to operate on behalf of its member institutions–Clark Atlanta University, Morehouse College, Morehouse School of Medicine, and Spelman College—is the world's oldest and largest association of historically Black colleges and universities. The Consortium is a vibrant intellectual community with a long tradition of scholarship, service, and community engagement.