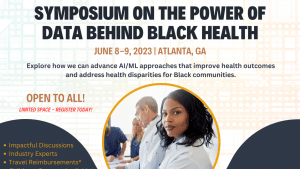 The Symposium on the Power of Data Behind Black Health will be held on June 8-9, 2023, at Morehouse School of Medicine (720 Westview Dr SW, Atlanta, GA 30310). Participants will engage in multidisciplinary discussions that explore how to advance AI/ML approaches that improve health outcomes and address health disparities, in particular, for those from Black communities. This Symposium is co-hosted by the Atlanta University Center (AUC) Data Science Initiative and the AIM-AHEAD Southeast Hub at Morehouse School of Medicine, in partnership with the National Data Science Alliance. For more information, please see the Symposium Agenda. Join us!
Register:https://www.surveymonkey.com/r/DataBlackHealth
Speakers and Presenters: Hear from astronauts to healthcare professionals to data scientists!
About: This Symposium explores the Power of Data Behind Black Health and how to develop equitable solutions for healthier communities. Topics include AI/ML approaches that address health disparities, the impact of cultural insensitivity in AI/ML algorithms and models, and methodologies that promote transparency and mitigate bias in AI/ML algorithms and models. Participants are asked to bring a laptop and charger, as interactive work will be done in a shared Google Drive Folder.
Faculty, staff, and graduate students from Minority Serving Institutions (MSIs) and community and corporate professionals in the southeastern region (AL, FL, GA, PR, SC, and VI) are encouraged to attend.
Funding:
Non-local participants may apply for and receive travel and lodging reimbursement for up to $1,200.
Those needing child/family care support may receive up to $100.