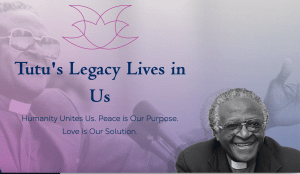 A Tribute to Archbishop Desmond Tutu:His Transformative Envisioning of Reconciliation and Restorative Social Justice
This tribute event is in honor of the legacy of Archbishop Desmond Tutu. In true Tutu fashion, this transformative celebration is designed to promote healing, resolution and peace. It's an opportunity to encourage the next generation to carry his messages of resilience, nonviolence and equality.
​Archbishop Tutu's Connection to Atlanta
Archbishop Tutu made history with Atlanta-based Coca-Cola in the mid-80's by persuading the company to divest its assets from South Africa until apartheid ended. His connection to Atlanta continued at Emory University where he was a Visiting Professor at the Candler School of Theology from 1991-1992 and again from 1998-2000.
He also received honorary degrees from Emory, Clark Atlanta and Morehouse universities.
Honor the Legacy of the Archbishop
Sept. 28 at 10:00 a.m.
The Coca-Cola Stage at the Alliance Theatre
Woodruff Arts Center
1280 Peachtree St. NE
Atlanta, GA
​
For more information and to RSVP visit: https://www.atltututribute.com