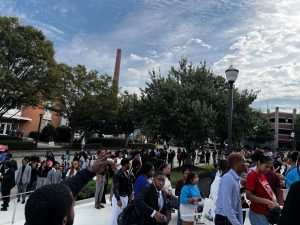 ATLANTA – Vice President Kamala Harris visited Martin Luther King Jr. International Chapel at Morehouse College in the Atlanta University Center on September 26, 2023, as part of her nationwide "Fight for Our Freedoms" college tour. VP Harris was joined by Morehouse alumni and former U.S. Representative Cedric Richmond (D-LA) '95 and media personality Gia Peppers in a panel discussion where the trio discussed key issues such as reproductive freedom, book bans, gun safety, climate change, voting rights, and LGBTQ+ equality. The panel also took questions from Morehouse students.  
Students from Clark Atlanta University, Morehouse College, Spelman College, and Morris Brown College were in attendance and the audience stayed engaged as they awaited the VP's arrival, as SGA Presidents from each institution greeted students, Greek Life from Morehouse College strolled and the Morehouse College Band, House of Funk, played R&B favorites. Morehouse students Paul Simon, also known as DJ Biz, and host Trysten Williams kept the crowd going with music, dancing and flowing smoothly as guests such as, Mayor of Atlanta Andre Dickens, Morehouse alumni and U.S. Senator Raphel Warnock,'91 and U.S. Secretary of Education Miguel Cardona greeted students. 
"HBCUs have produced 100 percent of Black vice presidents," Cardona said after going through a detailed list of how many engineers, teachers, judges and doctors have been produced by HBCUs to much applause from the audience of mainly students. Cardona told the crowd he was on his 25th college campus tour stop and had never felt the energy he felt in the AUC.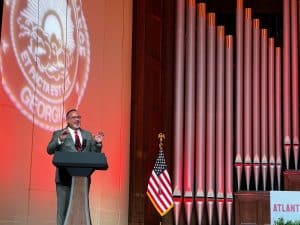 During the panel discussion, the vice president shared her thoughts on the unique experience of attending an HBCU and shared why the institutions are a priority of the Biden-Harris administration.  "We are a nation of opportunity, where anyone can achieve the American Dream, regardless of their background or circumstances. But we know that our democracy is not perfect, and it is up to all of us to fight for the progress we believe in, " Harris said. 
She also told students, "Your generation is a very special one you all have experienced so much already, whether it be in your entire life you've only known a climate crisis. Many of you were trying to figure out how to graduate high school or enter college in the midst of a pandemic. You are a generation that grew up with active shooter drills, your generation witnessed the crime against George Floyd. You all are not willing to sit passively by…you are not waiting for others to take control of what needs to be solved, you have stepped up and decided you will be part of making it happen…I'm here to thank you," Harris said.  
Harris also urged students to get involved in the political process and to vote in the upcoming midterm elections locally and nationally. "Your vote is your voice, and it is more important than ever to make your voice heard. We need to elect leaders who will fight for the things that matter most to us, like affordable healthcare, quality education, and a safe and healthy environment," Harris said. 
Here's what some AUC students in attendance had to say.
"I thought it was really great to hear Madame Vice President Kamala Harris speak about fighting for our freedoms and the importance of voting rights, specifically at an institution that has been astute in making sure that activism is done. I'm really excited and inspired by her work and her message here,"

Logan Payne

Political Science Major on Pre-Law Track

Spelman College

"I think it was a remarkable experience that Kamala Harris was able to be here today and I felt that everything that she said, is something that needed to be said, especially at an HBCU. Everything she was talking about, gun control, reproductive rights, climate change, all stuff that has been affecting Black students, particularly at HBCU schools…everything that she said is something that we as an HBCU collective and we as the next generation of students need to vote and need to work for."

Briana Previllion

Political Science Major

Clark Atlanta University

"I feel like she was a catalyst for us to act and move and do what we should be doing as a nation and as a community. What really spoke to my heart was when she was speaking about abortion because I feel that why are men speaking about women's rights and what to do with their body?

Amare Williams

Biology Major

Morehouse College

"I feel she really spoke to me and to students and she definitely is a great speaker and I definitely feel influenced by seeing her presence and her grace…she did a very good job."

Nihges Whitmore 

Psychology Mayor

Morehouse College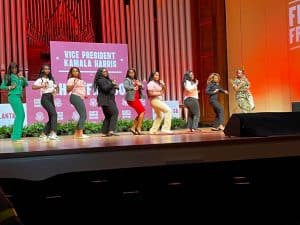 Morehouse College was the fifth stop in a nationwide tour of colleges, including historically Black and Hispanic-serving schools. Other HBCU visits on the tour have included Hampton University in Hampton, VA on 9/14 and North Carolina A&T in Greensboro, NC on 9/15.