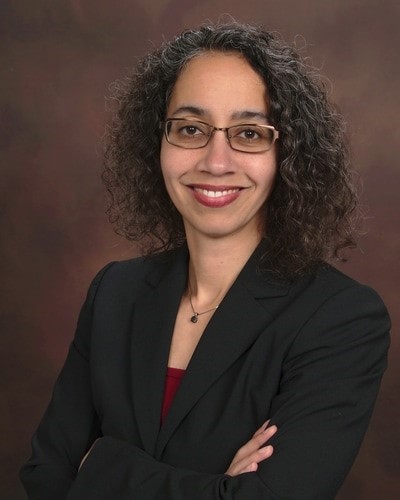 Director, AUCC Data Science Initiative
Dr. Talitha Washington is the inaugural director of the Atlanta University Center Consortium (AUCC) Data Science Initiative. This new initiative seeks to provide data-driven solutions to current and emerging societal problems, especially as it pertains to the African American community. Poised to bring new diverse perspectives to data science, Dr. Washington is a professor of Mathematics at Clark Atlanta University and is an affiliate faculty member at Morehouse College, Morehouse School of Medicine, and Spelman College.
Dr. Washington is a former program director at the National Science Foundation (NSF) in the Convergence Accelerator. Previously, as a program director in the Division of Undergraduate Education, she was instrumental in building and establishing NSF's first Hispanic-Serving Institutions Program which funded $40,000,000 in awards in FY19. Her research interests include the applications of differential equations to problems in biology and engineering, as well as the development of nonstandard finite difference schemes to numerically solve dynamical systems.
She was elected to honor societies Phi Beta Kappa and Sigma Xi, and mathematics honor societies Kappa Mu Epsilon and Pi Mu Epsilon. She is the recipient of the 2019 BEYA STEM Innovator Award, MAA's 2018 Leitzel Lecturer, an ASI Fellow, and featured by NSF as a Woman History Maker. In 2019, she received the distinguished Outstanding Faculty Award from Howard University. In 2020, she received the NSF Director's Award for Superior Accomplishment.
Dr. Washington completed her undergraduate studies in mathematics at Spelman College and studied abroad at the Universidad Autónoma de Guadalajara, Mexico. She earned her master's and doctoral degrees in mathematics from the University of Connecticut. She was a VIGRE Research Associate in the Department of Mathematics at Duke University. She held assistant professorships at The College of New Rochelle and the University of Evansville,  an associate professorship at Howard University, and most recently, a full professorship at Clark Atlanta University.
​Dr. Washington is an in-demand speaker who enjoys sharing her expertise on applied mathematics as well as STEM diversity to a wide range of audiences. Her work on Dr. Elbert Frank Cox, the first Black in the world to earn a PhD in mathematics, has been shared on radio and television stations, as well as in the Notices of the American Mathematical Society.