Dual Degree Engineering Program (DDEP)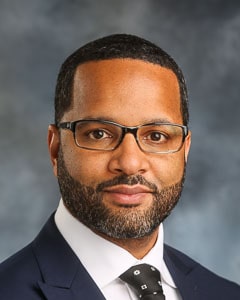 Vice President, Global Diversity & Inclusion at Lockheed Martin
Rhom Erskine is Vice President, Global Diversity & Inclusion at Lockheed Martin, with specific responsibility for diversity and inclusion vision, strategic direction, employee engagement, and equal opportunity compliance for the enterprise and its 110,000+ employees. In this role, he works closely with business area and HR executives, talent acquisition/management leaders, communications, and external partners to drive diversity and inclusion thought leadership and impact. 
Rhom is a consultative senior leader with over 20 years of experience in large, mid-size, and small business environments, where he has demonstrated success in strategic Diversity & Inclusion (D&I) planning and growth, D&I Council leadership, Business Resource Groups, change management, employee engagement strategies, diversity recruiting, and product/program management. Having spent the early part of his career in marketing, software product development, and sales strategy, he also brings strong line-of-business experience to complement award-winning D&I experience. 
Prior to this role, Rhom was Director, Global Diversity & Inclusion at Lockheed Martin's Aeronautics business area. Before joining Lockheed Martin, he served as Director of Diversity & Inclusion at McKesson Corporation, a Fortune 10 pharmaceutical distribution and medical technology company. Previous roles also include Director of Diversity, Inclusion, and Multicultural at Affairs at Harland Clarke Holdings Corporation, where his focus extended internationally as well, leading the company's Global Advisory Team, which functioned as an internal knowledge repository, providing guidance to project teams and individuals to reduce the cultural learning curve during international acquisitions. 
Rhom supports a number of community and professional organizations, including past/present Board of Directors positions with Advancing Minorities Interest in Engineering (AMIE), the National Black MBA Association's Atlanta Chapter, the Clark Atlanta University School of Business, the Center for the Visually Impaired, and Zoo Atlanta. 
A native of Huntsville, Alabama, Rhom holds a B.A. in Psychology from Morehouse College, an MBA with a Marketing concentration from Clark Atlanta University, and has received executive training in Diversity & Inclusion from Georgetown University and the American Institute for Managing Diversity. He has been selected as one of the Top 40 Under 40: Georgia's Best and Brightest by Georgia Trend Magazine, as well as a member of the Top 100 Under 50 Emerging and Executive Leaders by Diversity MBA Magazine. He and his wife Danielle reside in Atlanta, GA and are the proud parents of three sons.